Bathroom Renovations
Complete bathroom plumbing renovation services
Are you struggling to find space in your bathroom? Is your bathroom plumbing outdated and in need of repair? Has a bathroom renovation been on your list of things to do, but you haven't quite got there? Now is the perfect time to organise a bathroom renovation, and Crystal Blue Plumbing are the perfect team to do it. We offer industry leading bathroom renovation plumbing across Brisbane and surrounding suburbs - including Gold Coast, Sunshine Coast, Redcliffe, Northern, Eastern, Southern Suburbs and Western Suburbs, Ipswich and Logan areas and Scenic Rim. Get in contact with Crystal Blue Plumbing today to learn more.
Get started with your renovation today!
Why renovate your bathroom?
Renovating your bathroom offers a range of benefits, including:
Boosting the value of your home.
Boosting the aesthetics of your home.
Helping with energy efficiency and water efficiency.
Updating fixtures and fittings.
Potentially add more usable space.
And, when it comes to bathroom plumbing, Crystal Blue Plumbing are experienced specialists in ensuring your bathroom renovations turn out exactly as you'd hoped.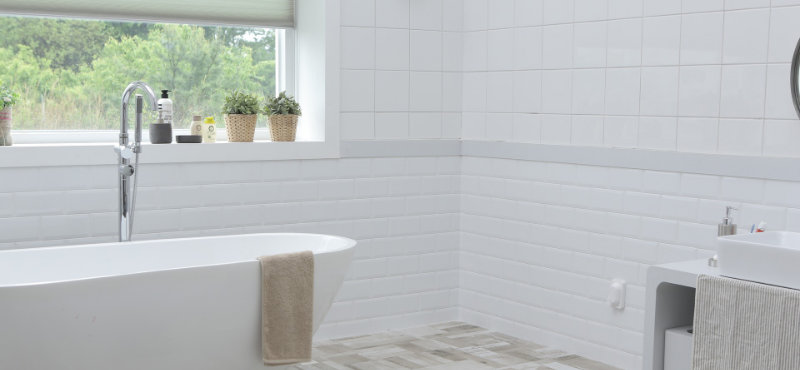 How much does a bathroom renovation cost?
This is one of the most common questions that we get asked, and the answer is… it depends! The cost of a bathroom renovation depends on a huge variety of factors, such as:
The size of your bathroom.
The extent of renovations you are wanting to be completed.
Whether any plumbing must be relocated.
Whether any of your plumbing requires repairs or replacement.
The fixtures and fittings you already have, and whether they are to be replaced.
And this is just the beginning. Speak to the friendly and knowledgeable team at Crystal Blue Plumbing today and we can discuss all your bathroom needs.
Why have professional help with your bathroom renovation?
We understand you could possibly do a lot of the work involved in a bathroom renovation yourself. So, why choose a professional tradesperson to complete the job instead?
Plumbers have the relevant qualifications, licencing, insurance, and hands-on experience when it comes to bathroom renovation plumbing.
Plumbers have all the appropriate tools and equipment that are specifically designed for plumbing, hot water, and drainage jobs such as this.
Plumbers have likely seen a renovation similar to yours before, allowing them to provide valuable insight and advice when it comes to plumbing and layouts.
All plumbing works must be completed by a licenced plumber by law in Australia.
Having a professional plumber complete your bathroom renovation offers you the knowledge that the job will be completed right and to the relevant industry standards.
Why choose us to help with your bathroom renovation?
We are fully qualified plumbers, offering you peace of mind that the job will be done correctly.
We are prompt and professional, ensuring we always arrive when we say we will as your time is precious.
We listen to your renovation ideas and provide practical solutions.
We understand how stressful renovations can be, which is why we make the process as smooth as possible.
No bathroom is too big or too small!

Your local plumbing experts when it comes to bathroom renovations
If you would like to know more about what Crystal Blue Plumbing Co can offer you when it comes to bathroom renovations, give us a call on 1300 984 775 and we would be happy to discuss all your plumbing needs today.